View this article below on Ignite website. 
People Feature: How Fund Firms Battle Secret Racism
How Fund Firms Battle Secret Racism
Article published on May 5, 2014
By Clare Trapasso
Racism in the button-down world of financial institutions is rarely as blatant as L.A. Clippers owner Donald Sterling's alleged remarks, which included asking his girlfriend not to bring black people to the team's games.
But the choices that fund managers, analysts and marketing team members make in whom to meet for lunch, tee off with on the golf course or recommend for an open position can be just as damaging, experts say.
"There is still significant discrimination in the workplace," says Michael Wenger, senior research fellow at the Joint Center for Political and Economic Studies. "If we hear these things when they are taped, there are likely to be other instances in major corporations where such remarks are made … but we never know about them."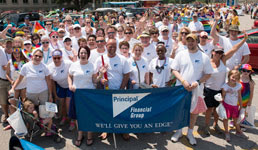 Principal employees at the 2013 Capital CIty Pride. By Blind Photography.
The U.S. Equal Employment Opportunity Commission received 801 complaints of racial discrimination and 675 alleging sex discrimination in the financial sector in fiscal year 2013. The agency also received 15 gender identity, transgender and sexual orientation complaints in the industry in the first nine months of the year.
Many financial firms have addressed discrimination by creating zero-tolerance policies for racism, sexism and homophobia in the workplace, offering workshops on bias and setting up diversity councils for employees.
Prudential Financial, a Newark, N.J.-based company with roughly 47,000 employees, encourages staff to report incidents to their managers or human resources, or by calling in to a confidential ethics hotline.
The claims are investigated internally. Employees who are deemed to have violated the company's policies can receive a verbal or written warning, be required to complete a program on unconscious biases, or be terminated, depending on the severity of the offense.
"Most of the time we find the issues really relate to people not getting along or people just misunderstanding each other," says Michele Green, chief diversity officer and VP at the company.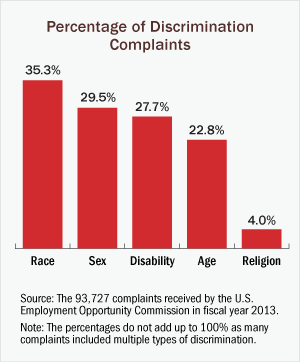 Discrimination in the workplace typically rears its head in racist, sexist and homophobic remarks, says David Leonard, an ethnic studies professor at Washington State University, Pullman.
"These are often said in small groups in spaces where it is assumed that they are all of the same mind-set," he says.
He recommends that employees make it clear to the speaker that the remarks are neither funny nor acceptable.
Even today, minorities, women and members of the LGBT community are often held to different standards than their white male peers, experts say.
"[Supervisors] often treat black employees less well than white employees when it has to do with things like time off," Wenger says. "They're less likely to be forgiven for making a mistake. They're more likely to be judged more harshly on evaluations."
Minorities often have a harder time landing the job and advancing through the ranks.
Workers typically find jobs through their personal and professional networks, which can exclude minorities, says John Powell, director of the Haas Institute for a Fair and Inclusive Society at the University of California, Berkeley.
And managers often try to fill open positions with workers similar to those already employed by the company to ensure a "cultural fit."
"It's not necessarily someone saying a black woman can't do this job," Powell says. "It's who you have lunch with, who you play golf with."
Discrimination in the workplace is not as overt as it was 10 or 20 years ago, says Nicki Gilmour, CEO of The Glass Hammer, an online magazine for professional women.
"People are too smart for name-calling," says Gilmour, who is also an organizational psychologist specializing in diversity at financial firms. "But that doesn't mean the problem has gone away. The problem has gone underground."
In the financial sector, banks are taking the lead on lesbian, gay, bisexual and transgender equality issues, says Gilmour. Fund management companies are lagging behind.
"Banks have really looked at it as a talent retention driver," she says. Fund firms "haven't spent as much time programmatically addressing it."
Each division of Wells Fargo has its own diversity group to make employees feel supported.
"Team members do their best when they feel they're included," says Karla Rabusch, president of Wells Fargo Advantage Funds and co-chair of the division's enterprise diversity and inclusion council.
Recently an employee spoke for Black History Month about growing up in a segregated school system in Alabama during a video conference that was available to anyone within asset management.
"Once people have more knowledge, education, awareness about various aspects of diversity, they think about it more," Rabusch says. "Sometimes people have unconscious biases. They may not recognize they're treating someone differently."
Principal Financial Group has seven employee resource groups for its roughly 14,000 employees. They include groups for African-American, Hispanic, Asian, LGBT, veterans, disabled employees and new hires. The firm also has a network for women leaders and women in technology.
"Diversity is not something we create or cope with," says Kerry Gumm, director of human resources at Principal. "It's something that we capitalize on."